By Stephany Seay / Buffalo Field Campaign
Featured image: Hundreds of wild buffalo will no longer be harassed or otherwise harmed on the Horse Butte peninsula, seen in the distance here.  Photo by Buffalo Field Campaign.
Yesterday, Montana Governor Steve Bullock issued his final decision on year-round habitat for wild bison in Montana, and Buffalo Field Campaign is very pleased to announce that after more than eighteen years of fighting for wild buffalo to freely roam Horse Butte, we have finally achieved this significant victory! As many of you know, Horse Butte is part of what we have been pressing for since the beginning of our campaign, and we are inclined to celebrate this achievement as the victory that it is; indeed, it may be the biggest victory we have had! It took nearly two decades of hard work in the field, in the courts, and in the policy arena to accomplish this, and it demonstrates how perseverance pays off, and how we must never give up.
This victory is a result of endless pressure, being endlessly applied by BFC, by you our dedicated supporters, by the incredible and active residents of Horse Butte, and by the buffalo themselves who consistently demonstrate resistance, persistence, and endurance. Another boon granted the buffalo is that bull bison — but only bulls — will be given year-round habitat in the Gardiner Basin. Please take a little time to celebrate this victory, as it has been hard-earned by each of you. Thank you to everyone who has been with us for the buffalo, making our work possible.
As we bask in this triumph, we cannot let down our guard. We must strengthen our resolve to continue fighting for wild buffalo and their right to roam the lands that are their birthright. We have many difficult battles yet to win. A closer look at Governor Bullock's decision shows us that the buffalo are still in grave danger from livestock industry interests and the government agencies that serve them.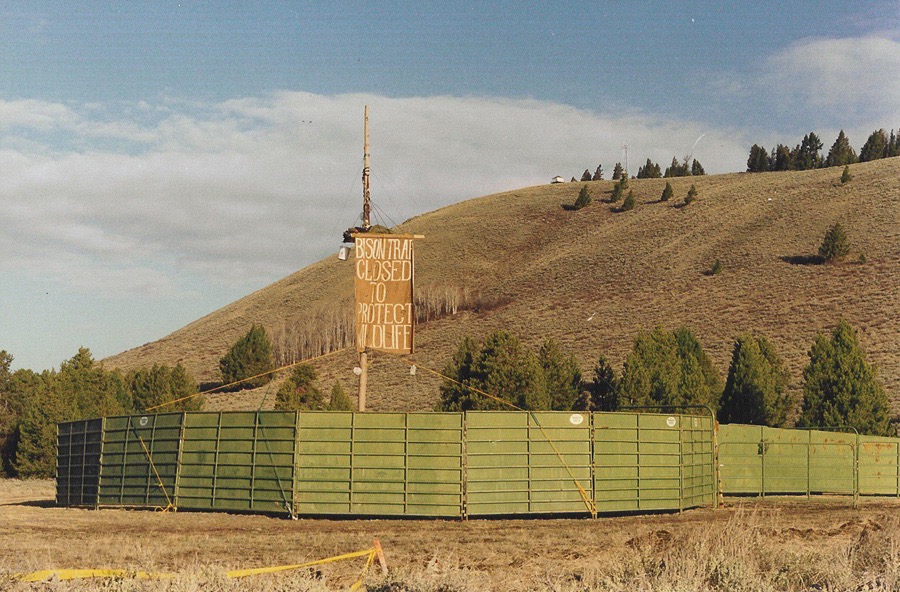 Even the decision to grant buffalo year-round habitat on Horse Butte has its devilish details, mainly in the form of a population cap: during fall and winter approximately 450 buffalo will be allowed to live there; during the spring that number rises to 600, which is terrific timing since that's when the large herds come to Horse Butte for calving season; but by July the government will allow only 250 buffalo to remain. From reviewing the Governor's decision, it appears that, should there be more than 250 buffalo on Horse Butte by summer, hazing would not begin until then, which is about six weeks later than hazing has been taking place in recent years. While our ultimate goal is to put an end to all hazing, this means that wild buffalo will finally have the opportunity to make their own choices about when or whether to migrate into Yellowstone for the summer months. It will be an awesome gift to learn what they will do directly from the buffalo.
The deeper you look into the Governor's decision, the more questions it raises. Hazing, hunting, and capture-for-slaughter remain tools that the livestock-backed government agencies will employ, with goals of keeping this highly vulnerable — and indeed, endangered — population at artifically low numbers. Additionally, wild buffalo will not be granted any "tolerance" along the south side of the Madison River, which is favored habitat, mostly public lands, that the matriarch-led family groups very much enjoy and require during the months surrounding calving season. Also, in the Gardiner Basin, matriarch-led family groups will not have full access like their adult male counterparts, but will be given tolerance only during "hunting" season, and will be hazed into Yellowstone by mid-spring.
Again, we have a long way to go for the buffalo. We need you to join with us in strengthening your resolve and renewing your commitment to do whatever it takes to defend our beloved wild buffalo until they roam free all across the lands that have been their home since buffalo time began.
Support Buffalo Field Campaign here.