Thoughts on Dylan Roof, The Charleston Shooting, The Spectacle of Death, & The Roanoke Killings
by Dominique Christina / Deep Green Resistance
I hate writing about this stuff…
But today in Roanoke Virginia, a black man gunned down three people on live television, killing two of them. He even held a camera phone up to record himself doing the deed. I got wind of it late. That is usually the case for me. I actively avoid the news. It leads me toward feelings of hopelessness and I have kids to raise. I have to have enough language left in me to give them hope or something like it. But social media has a way of making sure you know things. I saw tweets like: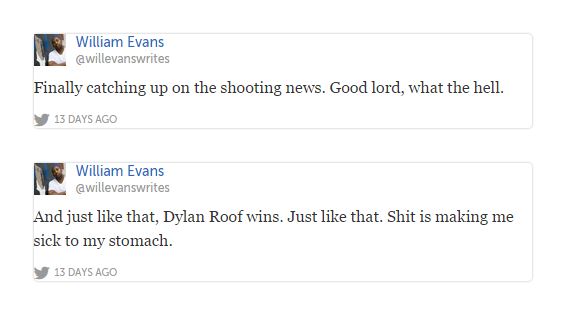 And…

And just like that I am again entangled in the too frequent conversation about violence in this country and gun laws, and questions about motive and debates about whether or not it was race-related and the connection between this event and the shooting in Charleston where nine people were killed by Dylan Roof who was named by the Roanoke shooter in the manifesto he wrote and sent to a news station two hours after he murdered the two newscasters.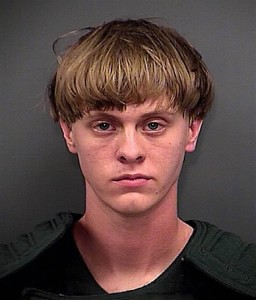 And in spite of myself I went looking for who this man was that shot and killed two people on live television in Virginia today. And I found this…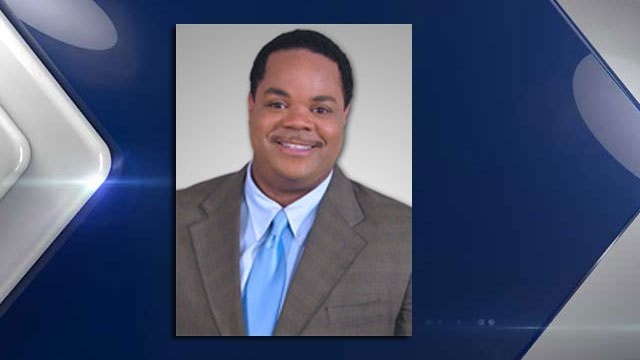 But then I found this…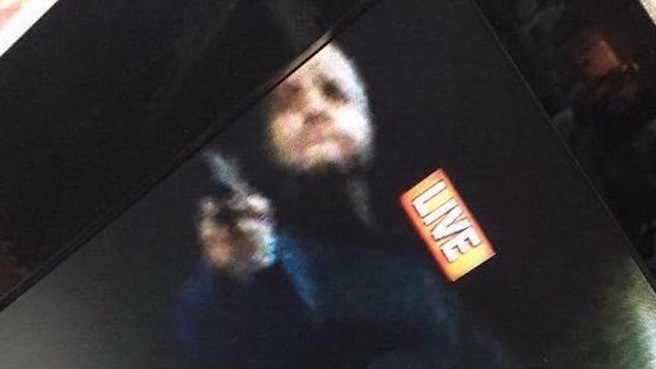 And I watched video that showed this woman…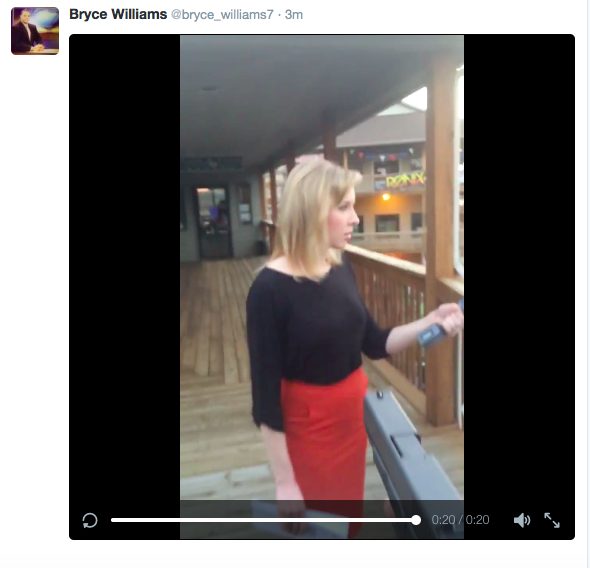 …just moments before she was gunned down. You can hear her screaming…or somebody…somebody is screaming…and it is the same unlanguageable hurt that visits us regularly now. We've seen it all before. It's almost naive to call it "unthinkable" now. We have made a home of it. The old familiar anguish, if you aren't too desensitized to feel that, visits but only stays around a couple of days before we are right back to our lives, our business trips, our smart phones…But this shooting made me remember when my paradigm changed…
My son was just seven months old when two young men walked into Columbine High School in Littleton, Colorado killing fellow students and a teacher. I had just completed my Master's program at The University of Arkansas and had moved back to Denver with my young son. My advisor had arranged for me to complete my student teaching in Colorado. I was assigned to Columbine High School. I was scheduled for a visit on the day of the shootings. But something happened that morning. My infant son woke up early with a cold. His first. I was a new mother. I freaked out. Called the school, told someone at the front desk that I was going to have to reschedule, was assured that that would be fine, hung up, and nursed my son until we both went back to sleep. When I woke up I turned on the television and saw this…
And this…
And this…
I didn't have any language for it. I had no point of reference for it. A shooting at a school? What world was this?
In the days that followed, I, like many, grieved for the students, the teachers, and the parents. Like most folk, I struggled to make sense of it. America, the violent, was not news to me. But this new ugly rattled me. A lot. I couldn't sleep. I couldn't let go of the images of students pouring out of the school screaming. I needed answers. And then…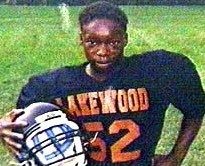 The parents of Isaiah Shoels, the only African American student killed in the Columbine shooting, decided to make their son's wake and funeral available to the public. I decided to go.
At the wake I met Isaiah Shoels' mother and stepfather. I talked with them for a long time. I was honored to be allowed to do so. I let their grief engulf me. They had just lost a son to unimaginable violence…unimaginable because it was the suburbs; unimaginable because it was in a school with so much privilege, unimaginable because they had moved to Littleton to ESCAPE the violence they knew and were met with another kind. I let their grief engulf me because I had my own precious son, unkilled and waiting for me at home. The very LEAST I could do was stand still and hold a space for them. I promised them both I would attend the funeral the next day. I promised them I would never forget Isaiah.
Before I left the wake I stared at him in that coffin. I was shell-shocked and destabilized by the whole damn thing. I remember having to pull over in my car when I left Pipkin Mortuary. The ululation…pinned me to the steering wheel and hung on for a good while.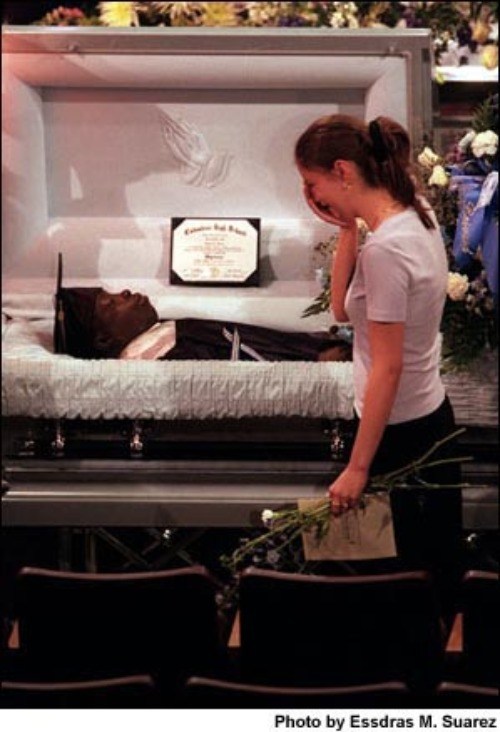 I brought my son with me to the funeral the next day. There are things I remember with absolute clarity and other things are lost to the sadness. I remember the choir. I remember them singing "No weapon formed against me, shall prosper." I remember the swell of folk in the church that day. I remember pressing my son so tightly against me at one point he squealed in protest and a man standing behind me reached out his hands and took my baby from me so I could cry like I needed to. I remember those things. I remember the church being stuffed with mourners and reporters…I remember his parents' faces…
At some point I left the church that day. At some point I let the memory of Isaiah Shoels slip from around my neck and while I have NEVER forgotten that young man, I have not quite carried him with me either. I'm not sure if that's noble or not. Today brought it all back though…
The man in Roanoke Virginia did something unspeakable. He murdered two people and he did so in a manner that encouraged spectacle. He wanted an audience. He wanted to inherit the legacy of other mass shooters. He named them in his manifesto. I will not do so here but…that broke me.
In the scraps that have been made available to the public from his manifesto, the shooter talks about being bullied for being black and gay. If that is true I doubt it not. This is America after all. Where God looks like a straight white man with a 401K plan. That is not a statement intended to legitimize what the shooter did. It is, however, a statement about the real life consequences of treating people like second class citizens and then using the old bootstrap anecdote on them when they become dysfunctional. Powder kegs often blow.
But here's what I'm left with…in the wake of the Roanoke shooting, the thing that stuck out to me most profoundly was the media's treatment of the event. Yeah…I'm going there…
The shooting of the two newscasters was done on live television. The shooter seemed deliberate about wanting the spectacle. But media outlets refused to show the killing. MSNBC stated that fact flatly. They would not show the video. CNN has just announced that they will "only" show the video of the journalists being shot once per hour. Here's why that is noteworthy…
CNN, MSNBC, FOX News and others ran a constant loop of Michael Brown's body, which lay on the ground for more than four hours after he was shot. They did not blur the image. They did not make speeches about "honoring the family" or "protecting the public from the horror." I never heard descriptors like "gruesome" and "ghastly" attached to the sight of an 18 year old black boy's body in the middle of the street, the blood pouring from his head and face creating a highway of blood several feet away from him.
Or this…
Eric Garner being murdered in front of our very eyes at the hands of NYPD Officer Daniel Pantaleo…it was played over and over again on various news stations. No pretty speeches about honoring the family, no blurred image. You can literally watch Eric Garner die whenever you like.
And the video of Tamir Rice, 12 years old, being shot dead by police officers in Cleveland which I still can't watch but, which is readily available online if I ever change my mind.
And this…
The surveillance video inside Walmart that shows John Crawford being shot dead for holding a BB gun that was for sale in that same Walmart…found easily online…
And Walter Scott, a black man in South Carolina, shot in the back by a police officer who later lied and planted evidence…you know…standard procedure…
And this…Samuel Dubose…shot in the face by a University of Cincinatti cop who stopped Mr. Dubose because…he did not have a front plate on his car.
I can't get on the internet anymore without seeing at least one streaming video showing a black or brown body being brutalized or murdered. It is literally EVERYWHERE. Facebook, Twitter, Tumblr…oh yeah…remember Kajieme Powell? The young man who was shot by police in Saint Louis RIGHT after the death of Mike Brown? His death is available online too. See?
And on and on. Death as spectacle. But only if it is a black or brown body.
The televised shooting of the two journalists is being protected in a particular way and do you know why? Because they are human beings. And they are being treated as such. Their death is a tragedy. It is being treated as such. The victims and the victims' families are being honored by not turning their murder into something to gawk at; something to be triggered and traumatized by.
But we have seen black bodies on display before.
There is no accident in such behavior. You brutalize a body out loud and in full view because of the function it serves. What better way to train docility, fear, or apathy into a people than to show them it is always hunting season. And they are ALWAYS the prey.
It's like: "Look! I can murder you in front of witnesses and STILL get off. The system is designed to protect me and annihilate you. The spectacle of horror….
Now listen. I am not itching to see the two newscasters being shot. This ain't that. If that's your read of what I've said, go back and start at the beginning cuz I ain't got time to help you grasp the obvious. What I am talking about is the inherent racism in regarding black bodies as sound bite and constant loop while holding white bodies with reverence and respect. What happened to the newscasters was loathsome. What happened to Eric Garner, Mike Brown, Tamir Rice, John Crawford, Samuel Dubose and so many others, was…you know…normal. And often times, while the loop of some black person's death played on major media outlets, reporters were having conversations about the victims that vilified them in death. "She had marijuana in her system." And, "He had been arrested before for a suspended license." And "He had been suspended from school for smoking weed." On and on…
And that's the shit up with which we cannot put.
There has not been rigorous conversation about the possibility of mental illness in the shooter in Roanoke. Nobody is poking into the newscasters past to find out if they had ever smoked marijuana or been pulled over for a busted tail light or been convicted of petty theft. But in each case, when it is about a black or brown person being killed, those conversations are stentorian, all while the video of their death is played on a loop.
What I do know, is that at some point soon, we will all need to risk something in order to have deliberate and intentional conversations about race and the legacy of violence in this country. If we don't, there will be more blood, more hashtags, more videos, more breaking news, more spectacle, and…there will be more events like the one in Roanoke. And if I know nothing else, I KNOW America is not ready to see marginalized folk invert that mechanism the way the shooter in Virginia did. Trust me, once you allow for one act of brutality to go uninterrupted, you permission the space for others like it.
The Roanoke shooter attributed his behavior to the Charleston shooting. He expressed admiration for the Columbine and Virginia Tech shooters. He aspired to be like them. Who's ready for that to become the template of normal? For brothers to go gunning down the folk they feel are oppressing them? You ready for that? Because violence almost never trickles up. But it did that day.
I hate writing about this stuff.
I do not want my children to grow up in a world that feeds them a steady diet of executions, and particularly the executions of black and brown bodies while handling white bodies with care. I do not know what toll this has already taken on their psyche as black children trying to navigate this place. I'm not even sure what woman I am as a result of constant trauma.
More than that though, I am tired of us avoiding the conversations that are the most urgent. If you want to live, you better look at it. If you want your children to live you better look at it. Otherwise…I suggest you stay indoors. It's hell out here.
Originally published August 29, 2015 on Storify