By Stephany Seay / Buffalo Field Campaign
Featured image: A young bull buffalo walks the hills in the Gardiner Basin. Photo by Stephany Seay
Based on what we witness in the field everyday, the killing taking place near Gardiner could more accurately be described as a slaughter than a hunt. The tribal game wardens we have spoken with agree, and they recognize that Montana's livestock interests have organized the circumstances to shift blame away from themselves to the tribes. There is obviously something terribly wrong when every last buffalo to migrate through Beattie Gulch ends up dead, or when hunters feel so desperate to kill every buffalo they see. Whether or not tribal hunters view their hunts as supporting the larger management scheme, the Interagency Bison Management Plan (IBMP) government agencies and affiliated tribal entities certainly do. There is no moral or scientific justification to the idea, perpetuated by the management agencies, of "surplus buffalo" and safeguards allowing buffalo safe passage between Yellowstone and Montana are sorely needed.
We have never and will never stand against treaty rights, but we maintain a steadfast opposition to the current management that uses hunting as a means to eradicate the buffalo. As currently practiced, the hunt is an extermination plan set up by livestock interests to ensure that buffalo never reclaim the lands that are their ancestral home and birthright. It is fundamentally wrong and immoral for hunters to be led to believe that if they don't kill the buffalo in this way, that they will just be slaughtered anyway.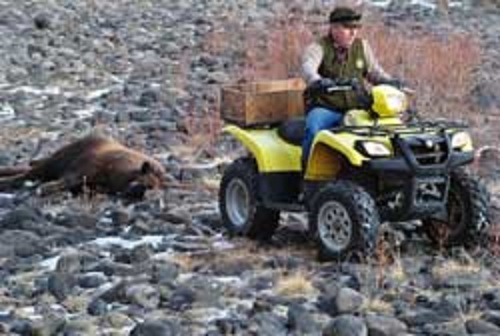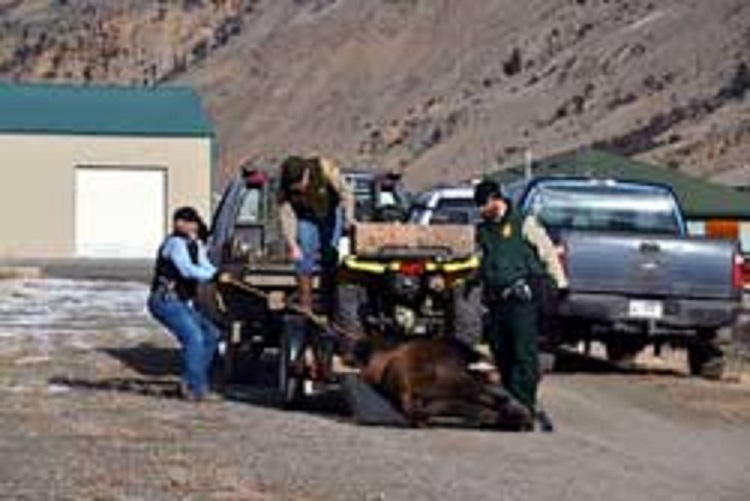 So long as buffalo die, the livestock industry and the governments don't care who does the killing or how. Contrast this to the tens of thousands of elk in the region who have been implicated in the transmission of brucellosis, and yet no one is claiming that there are "surplus" elk and no one is targeting them for transmitting disease to cattle. The welfare ranchers don't want to lose their foothold on control of the grass, so the buffalo, whom they view as competitors, must die. Hunters are in fact serving livestock interests no matter an individual hunter's intentions.
The buffalo death toll is quickly rising. More than fifty of the country's last wild buffalo have been killed by hunters since we last wrote. Mid-week, over five-hundred buffalo migrated into Montana, nearly all at once, through Beattie Gulch at Yellowstone's north boundary. Being in the midst of this ancient phenomenon is at once one of the most beautiful and most heartbreaking experiences. The migration of hundreds of buffalo is such a beautiful sight, a flow that has purpose and integrity, so simple in its power, timeless and perfect, seemingly unstoppable; but this ancient march is also heartbreaking because it leads so many buffalo straight to their deaths.
As we expected, word of this migration spread quickly, and hunters arrived en masse that night, the following day, and through the weekend. We expected a massacre, but through the course of days, the majority of the buffalo threatened to cross various lines, edging towards areas where they could be hunted, only to retreat in the nick of time. Frustrated hunters were driving all over the Basin, even through the Park, following us, glaring at us, wanting to blame us, looking for buffalo that they could kill, but finding few. Those few were gunned down rapidly at the Park boundary, in acts of haste and desperation. Many have been shot and wounded, fleeing into Yellowstone where hunters cannot pursue them, left to die slowly or walk forever with bullets in their flesh.
By Sunday, frustrated and determined to get their buffalo meat, hunters in pick-ups and on foot crowded around the park boundary, watching a family group of about thirty buffalo slowly make their way towards Beattie Gulch. The firefight that ensued that morning ended life for twenty-eight of those buffalo; the eight survivors, two of them shot and wounded, fled up the mountain and away with their lives.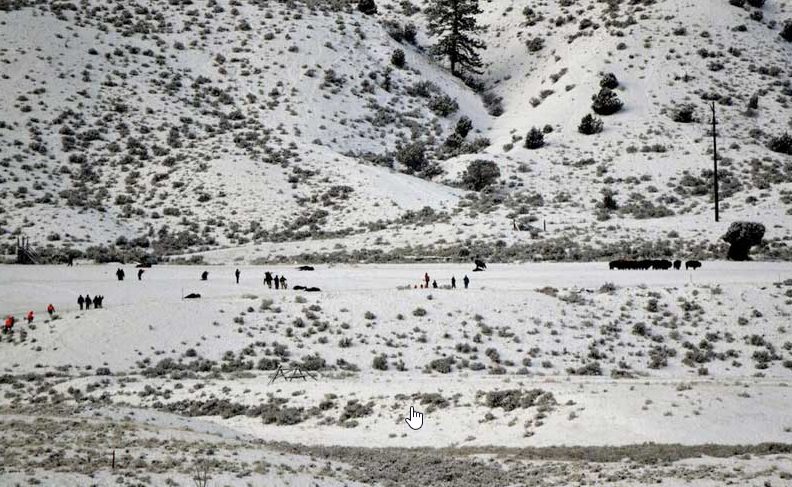 Make no mistake: BFC fully supports treaty rights and tribal sovereignty, yet our first priority is to the buffalo. What is taking place here is an extermination plan, and hunters are being used. We have to work in solidarity to demonstrate this, to end livestock control, and to get the buffalo — through migration — back on the landscape, in great numbers so that the proper, respectful relationships can be restored. Buffalo will take care of the people, but the people need to take care of them first. They need our help.
This whole Plan — which treaty hunting is certainly a part of from the government's viewpoint, and all the discussions and decisions that happen within the IBMP — is in place to harm the buffalo and to keep them from restoring themselves across the landscape. We need to put our collective energy into fighting the IBMP and the law that places the Montana Department of Livestock in charge of buffalo in Montana. We must acknowledge that wild buffalo are ecologically extinct, and the IBMP is using hunting as well as slaughter and hazing to facilitate their destruction, to prevent their restoration.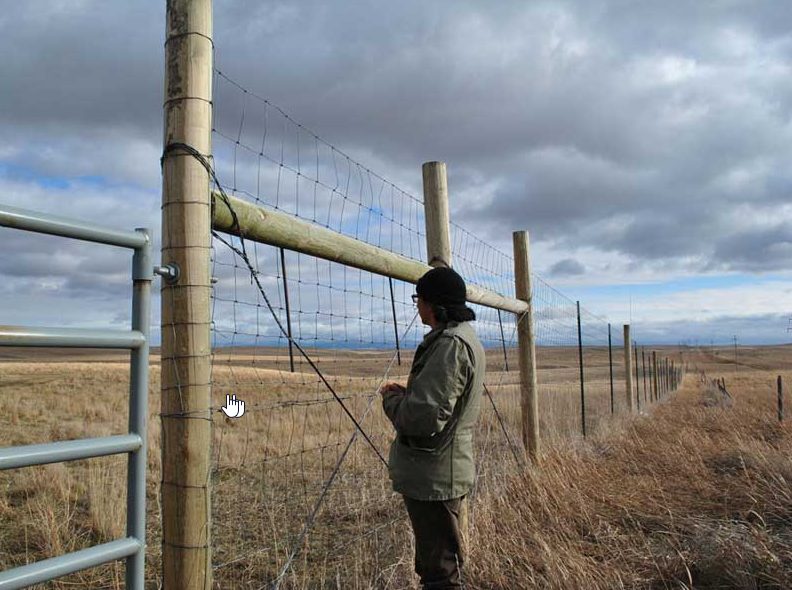 The same can be said of quarantine, which is a management tool for livestock, not wildlife. Again, livestock interests present "choices": dead buffalo or buffalo behind fences. Yellowstone National Park is aiming to develop a fifty-year plan for operational quarantine, making the process of domesticating wild, migratory buffalo an entrenched aspect of bison management. To be free or caged in is not an option in the wild world, it is a human option. Quarantine is something to satisfy the human; an easy way out, a toxic mimic of true wildlife restoration.  It is a means to control what should be free. Quarantine is also part of the brucellosis lie, the premise being that bison pose a brucellosis threat, which we know to be untrue. Should elk be quarantined also? Elk have brucellosis but roam free.
The quarantine process begins with buffalo families being torn apart, adults shipped to slaughter, calves orphaned and raised in domestication. Then, those who survive the human-handling and testing of the quarantine process will live behind fences for the rest of their lives. We have seen the buffalo who suffered "living" in quarantine; they were not happy, they looked to get out of those pens. They were humiliated and afraid. Many of them have died horrible deaths because they could not escape their enclosures. Quarantine is part of the culture of death, this "civilized" system that systematically destroys life on the planet. Quarantine asks us to accept an "easy fix" that will give the human ego gratification.
Migration is free and alive; it is having the ability to make choices, being self-willed. Buffalo behind fences to be food for humans is a view that reduces them to meat. They have strong relationships with more than humans. The compromise should be in standing aside and respecting how a creature places one foot in front of the other — and we fight those things that get in the way of that. Quarantine removes the buffalo from their natural community, from life and their gift to life. Who is asking the buffalo's perspective, asking them what they want? The buffalo will tell you that migration is they key to restoration. They know the way.
So many feel stuck in the "choices" that the government and industry have put before us.  People believe that they are doing the buffalo a "favor" by hunting them, or by supporting quarantine, because otherwise they would be captured and shipped to slaughter. They are shipped to slaughter anyway. Having to pick hunt, quarantine, or slaughter is being forced to make artificial and unnecessary choices. So long as this Plan is in place, so long as Montana is in control, so long as wild buffalo numbers are driven down to serve livestock industry politics, and so long as wild buffalo are prevented from restoring themselves on the landscape, the problems will persist. We must fight this Plan and livestock control in all it's guises. We must demand an end to livestock control, demand that wild buffalo walk the earth, demand an end to this management scheme.
One industry's intolerance is driving a national treasure towards the brink of extinction. We must put an end to livestock industry control over wild buffalo, and to do so we must repeal the law — MCA 81-2-120 — that places them in charge. As evidenced by his decision to grant year-round habitat on Horse Butte, Montana Governor Steve Bullock is listening, but the livestock industry is trying to undermine his citizen-supported decision. He must hear from us all, frequently. Please contact Governor Bullock today, even if you have already, thank him for granting year-round habitat on Horse Butte and urge him to help repeal MCA 81-2-120. With endless pressure, endlessly applied, we can end livestock industry control and gain more of the buffalo's Montana home for them to roam.
Thank you so very much for being with us for wild buffalo!